Lex Levinrad has been investing in real estate since 2003 and has purchased, rehabbed, wholesaled, fixed, flipped and rented over 1,000 single family homes. Lex with his team at Lex Real Estate Group, wholesale 15 to 20 houses every single month. Lex is also and active rehabber and fixes and flips up to 15 houses at a time. Lex has been actively managing a large portfolio of single family and multi family rental properties for over 15 years in multiple cities.
Lex is the founder and CEO of the Distressed Real Estate Institute™, which trains new real estate investors how to buy and rent, wholesale, and fix and flip properties. The Distressed Real Estate Institute specializes in teaching new investors how to buy foreclosures, short sales, bank owned properties and homes directly from motivated sellers. Lex has trained thousands of students from all over the world how to make money in real estate by wholesaling, fixing, flipping and buying and holding real estate with the Distressed Real Estate Institute Training and Coaching Programs™. Over 3,000 students have successfully completed our Partnership Program Real Estate Training.
Lex is an internationally recognized speaker and has shared the stage with some of the world's biggest speakers. He has authored 7 books about investing in real estate and has been featured on the front page of both the Miami Herald and the Sun Sentinel, and has also been featured on Fox News Radio, ABC, CBS, NBC, The Huffington Post, The Real Deal, Mortgage Daily News, Yahoo Real Estate, Real Estate Professional Magazine, and Real Estate Wealth Magazine. Lex writes articles about real estate investing for some of the most popular real estate magazines, online publications and real estate websites.
Lex hosts the Distressed Real Estate Radio Show and has also been featured as a guest speaker on many other real estate radio shows including Fox News Radio. and many other radio shows. Lex is also the founder of the Distressed Real Estate Investors Association™ which is one of the largest real estate investment clubs in the U.S. Lex is a licensed Realtor® with Charles Rutenberg Realty.
MY STORY ON HOW I GOT STARTED INVESTING IN REAL ESTATE
My name is Lex Levinrad. I have purchased and sold more than $100 million dollars' worth of single family homes. Many of the houses that I purchased were fixer upper homes in need of major repair. Some of these houses cost me less than $50,000 to buy. I have paid as little as $4,000 for a Single Family Home that was hurricane damaged. Most of the houses that I have purchased, fixed, rented and flipped required  a lot of repairs to make them ready to rent or ready to sell.
When I first got started, I did one deal at a time. I suggest that you do the same. I would buy a house, fix it, rent it out and then move on to another house. I was not a handy person, so if you don't have any experience with repairs don't let that scare you away. You don't have to do the repairs. You just need to write a check to the guy (or lady) that does the repair work. Each rehab that I did, I learned more about construction, labor and material costs, working with general contractors and hiring sub-contractors myself.
The first house that I purchased to fix and flip looked like it was literally falling apart. The house had been damaged by Hurricane Francis in 2004 and the roof was severely damaged by the hurricane and the house had major water damage and mold. How did I find this house? I purchased it from a wholesaler who found it with a $2 bandit sign (the wholesaler flipped the house to me).
Here is a picture of the house: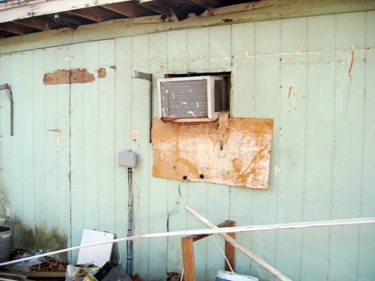 When I started out, I knew I needed to learn. So I found someone who was looking for a deal finder. He offered me $5,000 for every house that I would find for him which fit certain parameters. I highly recommend to all of my students that they start out just like I did as a deal finder or "bird dog". I worked as a "bird dog" for two years for the guy who became my real estate mentor (Ben) and his partner Alan. I had been working for almost 2 years for Ben and his partner BEFORE I purchased my first property. Prior to that I got paid finders fees every time I located a property for them. This is a great way to learn and I encourage you to learn like I did by being a deal locator and Partnering with someone who can buy the houses you locate. This is why our Partnership Program is so popular.
So after two years I was ready to do a deal for myself. I was looking for my first rental property when I came across this deal. I didn't even find the house. My mentor Ben found it, and he suggested to me that I buy this house as my first rental property. When I looked at the house I thought that he was crazy. The house was in terrible shape and I could not figure out how I was going to make money any money from this hurricane damaged house with mold that looked like it was falling apart.
I thought about backing out. I was getting scared and nervous and I started trying to figure out a way to back out. I was getting cold fee. I can guarantee you that when you get close to buying your first house and doing your first deal your first instinct is going to be to want to back out. It's normal. That's your fear that is stopping you. Don't let it. Don't listen to that fear. Don't let that fear stop you. If the numbers are good and you know the deal is right then you need to have the courage to act on that knowledge and overcome that fear.
I trusted Ben, and I decided that if he thought it was a good deal then I was going to overcome my inner fears and move forward with the deal. In hindsight it was a very badly damaged house and I don't necessarily recommend that your first deal be in as bad condition as mine was, however I will tell you this. Damaged houses are where the money is at. You won't make a lot of money buying cookie cutter houses in move in condition.
I calculated the comparable sales with Ben and he told me that I could buy the house for $50,000 and would need to spend about $25,000 in repairs. He told me that when it was fixed up it would probably we worth around $120,000 (After Repair Value or ARV).
I had been bird dogging deals – which means finding deals for other investors (in my case Ben and his partner) for almost two years. While I made good money as a deal finder for finding deals I was ready to buy my first rental property.  I wanted to own a property that I could keep as a rental. I loved the idea of someone having to pay me rent, and being able to use their rent payments to pay interest on the property.
So I overcame my inner fears and doubts and I "took the plunge" and purchased that house. I borrowed $50,000 from a private lender that Ben helped arrange. And I agreed to immediately start the $25,000 worth of repairs to the property. I borrowed the $25,000 repair money from my best friends mom (thanks Denise). My total out of pocket on the deal was zero.
The purchase price was $50,000 plus the $25,000 in repairs gave me a total all in cost of $75,000. I borrowed all of the $75,000 (as explained above). I had very little money at the time (about $600 in my checking account) and I had very bad credit. So don't let people tell you that you cannot buy real estate with no money down. You can. I did it. And you can too! You just need to find a good deal at a significant discount and you need to find a private lender that will loan you the money with the house as collateral.
This is what the inside of the house looked like: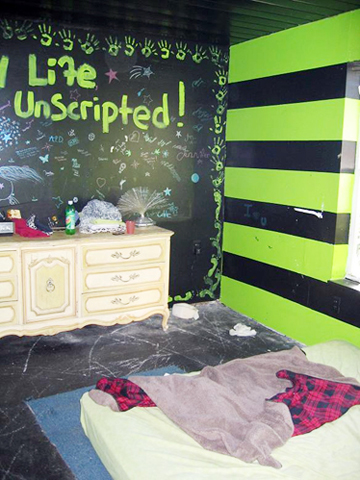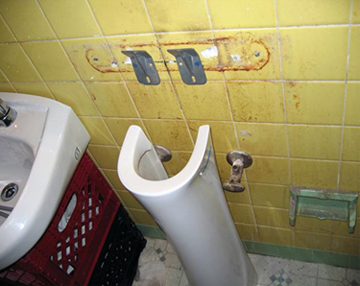 The scariest part of the house was the roof. The hurricane had ripped the roof right off and when it rained the water just came straight in to the house. The carpets were waterlogged and there was extensive water damage and there was mold too.
This is what the roof looked like: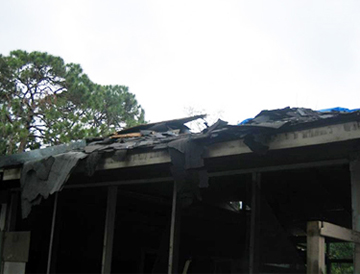 So I got to work and started writing checks using the $25,000 borrowed money to the guys who were working on repairing the house. I got the crew and the contractors from my mentor Ben and his partner Alan who were instrumental in helping me with my first house and walking me through my first rehab. If you want to fix and flip or fix and rent a house, then you are way better off doing it under the supervision of someone who has done it before. Don't try and brave it and go it alone. Learn from others. Never under estimate the power of having someone that can walk you through your first deal. I have done this with many of my coaching students (click on the testimonials tab at the top to see some of their stories).
Here is a picture of the roofers putting in a new roof on that same house: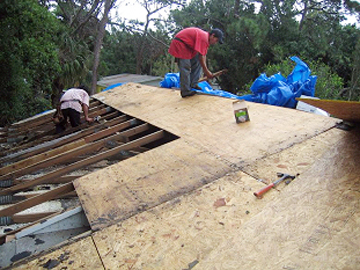 I got my repair crew to start working on fixing the inside of the house.
This is what the living room looked like when we bought the house: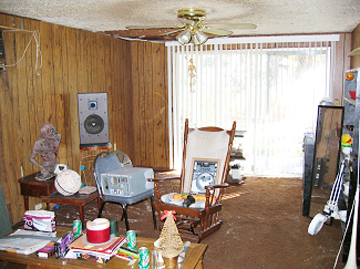 And this is what it looked like after it was remodeled: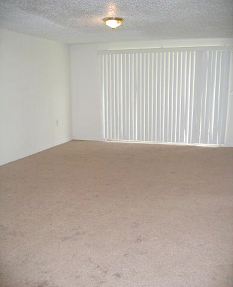 rehabbing this house my total cost including purchase price was $75,000. Once the repairs had been completed I ordered an appraisal on the house. I was shocked when the appraisal came in at $163,000. I had only spent $75,000 including repairs and it was worth $88,000 more than what I paid for it! I was so sure that the appraiser had made a mistake that I asked him if he had the correct address!
At the time, the banks required 6 months seasoning on title meaning I had to own the house for at least 6 months before I could refinance it. Now that the house was fixed up I put a sign in the yard and rented the front part of the house which was a 3 bedroom 2 bathroom for  $1,200 per month. The house also had a 1 bedroom 1 bathroom efficiency which I managed to rent out to one of my handymen who was working on the house for $600 per month. So my total rental income was $1,800 per month while my interest payments to my investors was only $625 per month. I was paying 10% on the $75,000 which is $625 per month.
I was eager to refinance. At the time I had almost no money and I had no job (other than being a bird dog locating deals for a fee for my mentor and his partner). So I had to put my wife's name on the loan in order to be approved for a mortgage since I didn't even get a paycheck! And my credit was horrible. I had bad credit and the bank would only lend 70% instead of the typical 80%. So if you have bad credit or little cash don't let not having cash or having bad credit stop you from thinking that you can't buy your first investment property. You can. You just need to find a great deal and a private lender. Or a partner.
So I waited 6 months and collected rent from my tenants. Keep in mind that my cash flow was $1,175 per month so every month I was basically getting money for doing nothing. And I got really lucky. Those first tenants paid on time each and every month without fail. After 6 months had elapsed my mortgage broker ordered and appraisal on the house. The appraisal came back at $163,000 which was way higher than the $120,000 we had originally figured the house would be worth once repaired. It turns out that the appraiser valued the front house at $123,000 and the efficiency at the back he gave a value of $40,000 for a total value of $163,000. Keep in mind that just 6 months prior to this I purchased that house for only $50,000!
With that appraisal my mortgage broker got me a 70% LTV Loan for $114,000. I used that money to pay back both of the lenders. I paid back my first investor the $50,000 and my second investor the $25,000. I was still left with $39,000 in cash from the refinance. This is known as a "cash out refinance". I remember coming home from the closing with a huge cashier's check and my wife asked me "how did you do that"? And my answer to her was "I don't know"! I literally could not believe the wealth potential of this business. Here I had a house with equity of $49,000 AND another $39,000 cashiers check in my hands! I also had tenants paying me $1,800 every month and I had a very positive cash flow.
The mortgage broker was a friend of mine. He also happened to be the owner of the house that I lived in in Boca Raton, Florida (he was renting the house to me). He came over to my house the evening after the refinance and as  joke I took that $39,000 cashiers check and I handed it to him and said "use this money as a down payment to get me a mortgage on this house and sell your house to me". Luckily for me, at the time he was buying another house and needed the equity. So he agreed to sell me the house. And being a mortgage broker he figured out how to get me approved for a mortgage. I still own that house in Boca Raton FL today!
So to recap, my first real estate deal on an investment property that I purchased with borrowed money got me $39,000 which I used as a down payment to buy my second house which was my primary residence. And I did this all with no money down! The value of the house that I purchased was $575,000. So in just 6 months with no money out of my pocket I now owned almost $750,000 worth of real estate!
So for those people out there that say you can't buy real estate with no money down – you can. They just don't know or understand how it works! All you need to do is find a good deal at a price that is way below market and there are many private lenders out there including myself that will gladly loan you the money. In fact, since then I have purchased every single property with borrowed funds from private lenders at rates of anywhere from 8% to 10%. That is how you can get started too. Once you own the house then you can refinance into a conventional mortgage just like I did on the example above. In case you are wondering why not just get a mortgage to begin with – the answer is banks don't loan money on damaged houses. If a house is damaged you have to pay all cash. And if you don't have the cash then you will need to borrow it from a friend, family member or private lender. In my case I borrowed from a private lender for the purchase and a friend's mom for the repairs.
That first year I purchased another five houses. And since then I have done nothing but buy houses, fix them up and sell them or rent them out. I also wholesale and flip 10 to 20 houses every month which I recommend you learn how to do. In fact I recommend that you start out learning how to wholesale before you even venture into fixing and flipping. For this reason starting out as a bird dog like I did is definitely the easiest and safest way to learn. This is one of the main reason why our Partnership Program is so popular (click on the Partnership Program Tab to learn more).
After buying, fixing and renting houses for a few year many people kept asking me if they could work with me or learn from me how to do it as well. I even took a few friends and family members out on the road with me to look at houses. But what I realized is they needed a guide book, like a study guide that outlined how and why this works. So I decided to write my system down and I figured that I would create a book and then sell it on Amazon.
What I didn't realize is that it would take me almost two years to write everything down. I spent 2006 to 2008 writing down what amounted to over 800 pages which is equivalent to 4 books worth of material. And when I was finally done I looked at it and realized that it was basically a how to guide to show other people how to do what I had done. And I realized that it was valuable and that there was no way that I was going to sell this as a book. That is how I created my Home Study Course.
Now when friends or family members told me they wanted to learn I had a "study guide" to give them. But I realized that taking them out on the road with me was costing me time (and money). And I couldn't make phone calls, call wholesalers, contractors etc with them in the car. So I decided that it was too time consuming. That changed when someone offered me a lot of money to teach them. And that is how my coaching program was born.
I created a 6 disc audio CD Set called "Getting Started As A Real Estate Investor" which highlighted important points for new investors like understanding comparable sales, repairs, private lenders, being a landlord etc. I used the Home Study Course and the Audio CD Set as a "study guide" for new students but I realized that they had a hard time understanding the key concepts such as distressed sellers, putting the deal together, finding the deal etc. And that is how the Distressed Real Estate Boot Camp started. Our first Distressed Real Estate Boot Camp had a room with a seating capacity of 60 seats. We sold out every single seat 3 months prior to the boot camp! And I knew we were on to something big. People wanted to learn how to do this. And they were willing to pay money to learn. The question was could we make them successful? Well you can see the answer by seeing my student success stories on the testimonials page. Our students have been even more successful than I could have ever imagined. And my goal now is to create the best Real Estate Education and Training company in the world! And I aim to do that by teaching one student at a time. (for more information about our boot camps click on the boot camp tab).
I called the Home Study Course "Millions in Real Estate with No Cash and No Credit". This Home Study Course was all of the knowledge that I had gained from my years as a real estate investor. The years when I went from zero real estate to millions of dollars' worth of real estate. And the years where real estate went down and then back up again. I can teach you how to buy fix and flip, buy fix and rent and how to wholesale and flip properties. And I would like you to learn all of the above skills and see for yourself the potential. You may just quit your day job like I did and like many of my students have done too!
Students at my boot camp tell me that I make it all sound so simple and easy. Well it really is simple and easy. You just need to follow the information in the Home Study Course, read my book about wholesaling and attend the Distressed Real Estate Boot Camp to see how simple it really is. Over the past 13 years I have also learned many other valuable lessons that I teach my students. You need to learn that you can't buy and hold properties and never sell anything because if you do you will constantly have increasing repair expenses, property taxes and insurance costs which will hamper your ability to grow.
You will also be losing the opportunity to make additional money from flipping and wholesaling properties. You need to learn how to fix and flip houses. You need to know how to sell retail, how to sell with lease option and how to sell with seller financing. And most importantly you need to learn how to wholesale and flip houses yourself without relying on wholesalers. When you get really good at finding great deals then you will need to build a cash buyers list so you can flip these houses to them. Along the way you will learn whether you prefer being a landlord, rehabber or wholesaler. They all have advantages and disadvantages. My suggestion is to do all three!
I know that it doesn't seem simple to you. Just like it didn't seem simple to me when I first started and even when I purchased that first house that you saw above I was full of fear, doubt and anxiety. But I still did it anyway. Having someone like my mentor Ben saying "it's okay this is a good deal" is sometimes all a new investor needs. That is why my coaching is so successful. Sometimes all you need is  someone like me to review the house, review the comps and say yes this is a good deal and help you with the project from start to finish. Once you have completed one deal like this you will need minimal help on your next deal. By the time you get to deal 3 or 4 you won't need any help at all.
I know where you are coming from. And I promise you that your biggest obstacle is FEAR. Not lack of money. Not that you don't have good credit. Not that you lack experience or don't know how to do repairs. FEAR is what is stopping you. Understand that your obstacles are within you!
Whatever path or journey you went on, for whatever reason you arrived at this page. And I believe that everything happens for a reason.
I was just like you. My real estate career started with a late night TV infomercial from a top real estate "guru". His course about buying real estate with no money down sounded too good to be true and I was skeptical. But I purchased that course anyway and many others after it. I spent thousands of dollars on real estate courses until one day I met a real real estate investor who was actually doing what these courses were saying you could do. It took me working for him and his partner finding deals for me to realized that I could do this too. I overcame that fear and mustered up the courage to move forward. And you need to figure out how to do that too.
Like I said, you have to get over your FEAR.
I am here to tell you that you can buy millions of dollars of real estate with no cash and no credit.
After I purchased my first house and rented it out, I realized that I could do it again. I went to an investor and showed them what I had done with the first house and had no problem borrowing money from them to buy this house which I purchased for only $16,000: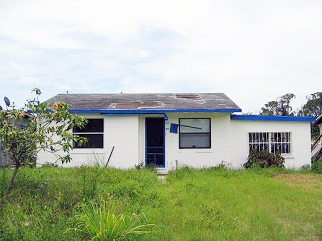 After I put on a new roof and rehabbed this house it looked like this: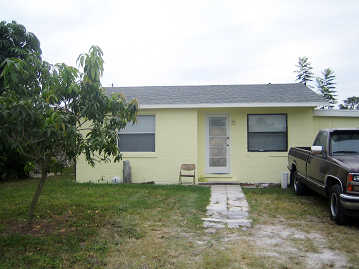 The tenant (that's his truck) paid me rent of $850 per month to live in this house while my payment to the investor was less than 1/3 of that.
When the house was appraised a year later it appraised for $119,000! And I paid only $16,000 to purchase it. I refinanced that property and paid back the investor and put a lot of money in my pocket.
You can buy houses with no money down. The pictures above are the first two houses that I purchased with no money down. I refinanced both of these houses and took out the cash. After paying off all loans to investors, my first two houses had a combined equity plus cash out of over $163,000! My Home Study Course starts out with the story of the the first ten houses that I bought with no money down. I show you 10 different houses. 10 different sellers and how I purchased their houses. Each property was unique. The above are just the first two houses. You can read the story on the others in my Home Study Course.
After buying these first two houses I decided I was going to be a real estate investor for the rest of my life. And now in addition to investing in real estate I teach it. And I love working with students.
I am now a landlord with a large portfolio of rental properties and I fix and flip and wholesale houses every single day. I have trained thousands of students from all over the world. I have students from Canada, England, South Africa, Israel, Switzerland, Sweden, Italy, Jamaica, Australia, Brazil and too many other countries to list. My students fly in from out of the country to attend my boot camp. I even have students that have wholesaled and flipped houses from out of the country. And of course I have students from all over the U.S flying in to attend my boot camps.
I am here to tell you that you can do what I did. You just need to overcome your OWN FEAR. The hardest part is getting started. If you can buy or wholesale just one house and see how easy it is then you will have taken a big step in overcoming your fear. Then you will be able to go buy and fix and flip another ten houses with less effort than that first house. It all starts with the first house. But you have to want it. You have to want it really, really bad. You have to be willing to do what it takes. Start out by attending the boot camp. I will have students there who did their first deal. Listen to their stories. Talk to them and ask them questions about how they got started. There is a good chance that you will be ready to overcome your fear and get started with your first deal once you see their story with your own eyes.
Unlike some real estate "gurus" that claim extraordinary things on TV or online I practice what I teach every single day. I am buying, fixing, flipping, wholesaling and renting houses every single day.
I am just a regular person like you. I don't have any specialized skills. You don't need a college degree to do this. In fact you don't even need a High School Diploma. I have trained students as young as 20 and as old as 82 to flip houses. I even trained a kid that was working at Wendy's making $6.75 an hour how to flip houses – and he flipped 17 houses all from home without even having a car.
Anyone can learn how to do this. But you need to have enough of a burning desire to remove your fear and get started. The FEAR will always be there. Whether you can take the plunge and overcome it and get started will be your biggest obstacle. Your other big obstacles will be skepticism and negativity.
Unfortunately, many times those closest to us like our friends and family are negative and skeptical without knowing it. Before you listen to someone regarding financial advice you should ask yourself how successful that person is financially. They might be the dearest person in the world to you but please don't ask them for financial advice if they are broke. Ask people that have money about how to make money. Don't ask people with no money how to make money because if they knew then they wouldn't be broke! You need to emulate and copy what you want to become. If you want to be wealthy, then watch what wealthy people do.
You need to start somewhere. You need to realize that real estate is the easiest way to create wealth from nothing. It is as simple as that. No one can deny the fact that more millionaires have been created in this country from real estate than from any other investment. That is an undeniable fact!
Please don't be a skeptic. I used to be a skeptic and it got me nowhere. You see the real proof of wealth is how much money is being deposited into your checking account each and every single day. Do you make money while you are on vacation? Do you make money while you sleep? Is your net worth and income growing each and every month?  Can you imagine what it feels like to flip a property for $5,000, $10,000, $15,000 or more while you are on vacation or on your boat like I do? Can you imagine doing that many times a month every single month? Real estate can teach you how to make serious cash! You can make more money in real estate than you can make in just about every other profession. In fact many full time real estate investors that I know used to be lawyers, accountants and engineers. They quit their professions when they saw how much cash they could make flipping houses! You could be doing that too.
Many people ask me why I take the time to teach other people how to invest in real estate. It is very time consuming. But I do it for two reasons, the first reason is that I enjoy it. And the second reason is that if I can change one person's life for the better then I have been a positive contribution to this world. And luckily for me and many of my students their lives have been significantly changed for the better by learning how to invest in real estate. And so has their income and their net worth! (check out the testimonials page).
Most people visiting my web site would not read all the way down to the bottom of this page. But I know that somewhere  out there is some individual like you, that actually took the time to read all of this. And you are probably thinking to yourself – I can do it. I can do what Lex did. And please remember there is nothing unique about me. I am investing in real estate based on principles that were taught to me. Along the way I refined these principles and wrote them down. And I also learned a lot over my 13 years of investing in real estate about what to do and what not to do. There are millions of successful real estate investors out there.
So if you are saying to yourself "I can do this" then I am here to tell you that you are right. You can do it. If you believe in you then I believe in you! The first step is for you to believe in yourself. I want you to succeed and I am here to help you every step of the way as long as you are positive, focused and are ready to put in the work necessary to be successful as a real estate investor. Because if you think it will happen overnight then it won't. You will need to overcome your Fear and then you will need to invest in your training and education. Start out by attending the Distressed Real Estate Boot Camp and reading the Home Study Course. And then if you apply that training and you are persistent you will start making money  wholesaling and flipping houses. From there you can move on to fixing and flipping or fixing and renting. Once you learn how to fix and flip one house then you can fix and flip ten houses or even a hundred houses.
So remember, I don't have any unique skills or talents. I'm just a simple, guy who is lucky enough to have done well in real estate and who gets to teach others how to do it too. I do the same things that you do with your family. I don't have any special skills or talents. I get to go out on my boat every weekend with my boys and my friends. I get to travel all over the world and I love my life and I love my lifestyle. And I have real estate to thank for that. And the people who first taught me how to invest in real estate. I love working with new investors. And nothing makes me more happy and proud than seeing a new student do their first deal. I want you to succeed.
So that is my story I wish you the best of success and hope you are ready to take the plunge and overcome your fear and get started as a real estate investor. I can teach you how to fix and flip, wholesale and buy and hold real estate long term. And I am ready for you whenever you are ready for me. Like the Buddhist proverb says "When the student is ready the teacher will appear"
I love helping new real estate investors and even experienced ones! our team at the Distressed Real Estate Institute are always just a phone call away. Call our office at 800-617-2884 or email our support desk with any questions at support@lexlevinrad.com.
To your success as a real estate investor,