We get a lot of questions from our students about bandit signs.
What type of bandit sign should you use?
Where do you order them?
What should you say on the bandit sign?
Should you have a website?
We have used bandit signs in our marketing for many years. In our first few years of wholesaling we relied exclusively on bandit signs to sell properties and generate seller leads.
I have personally tested every color combination. We have used white signs with red, blue and green writing. We have used white signs with blue, and with red and blue (American flag colors). We have used yellow signs with red and black, yellow signs with red only and yellow signs with black only.
We found that what works best and gets the most response is black writing on a yellow bandit sign.
So for marketing to motivated sellers use a sign like the bandit sign below.
For marketing to cash buyers we find that a yellow sign with a handwritten message in black marker works best. A hand written message in black marker on a yellow bandit sign that says something like "3 Bed 2 Bath House $79,000 Cash Only 561-948-2000" will get calls. Investors will be curious especially if the price is low.
It is very important to use large text on the bandit sign so that it can be read easily from a moving vehicle. Do not use websites since your goal is to have them call you.
A catchy phone number is great (since it is easy to remember like the number 561-948-2000 on the bandit sign below).
We order yellow 18 x 24 Bandit Signs.
We do NOT order the H Wire stakes. Instead we use an arrow stapler like this one
Here is one of our bandit signs that we use: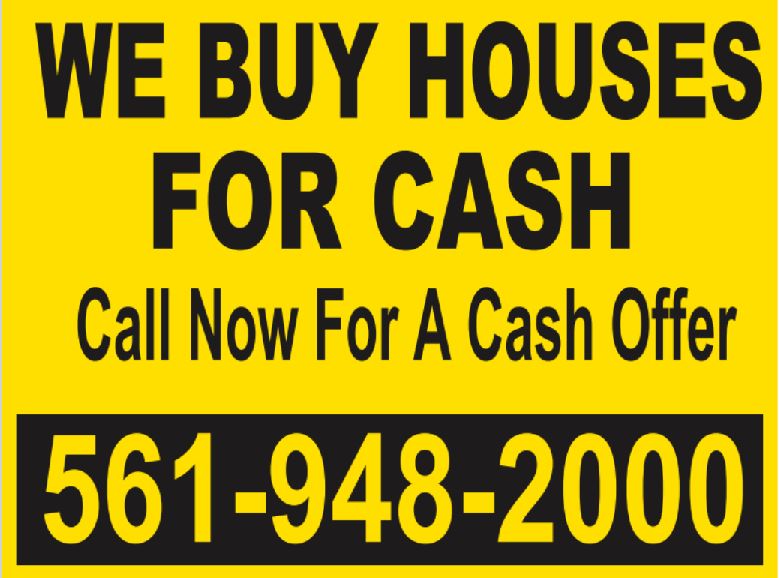 You can see some of our other templates that we use on the link below. You can also order using our template at the link below
CLICK HERE TO ORDER YOUR BANDIT SIGN
Do you want to learn how to wholesale real estate and flip houses?
For A Very Limited Time I Will Be Showing You…
"How my students are wholesaling real estate and flipping houses without using any of their own cash"
CLICK BELOW TO REGISTER.