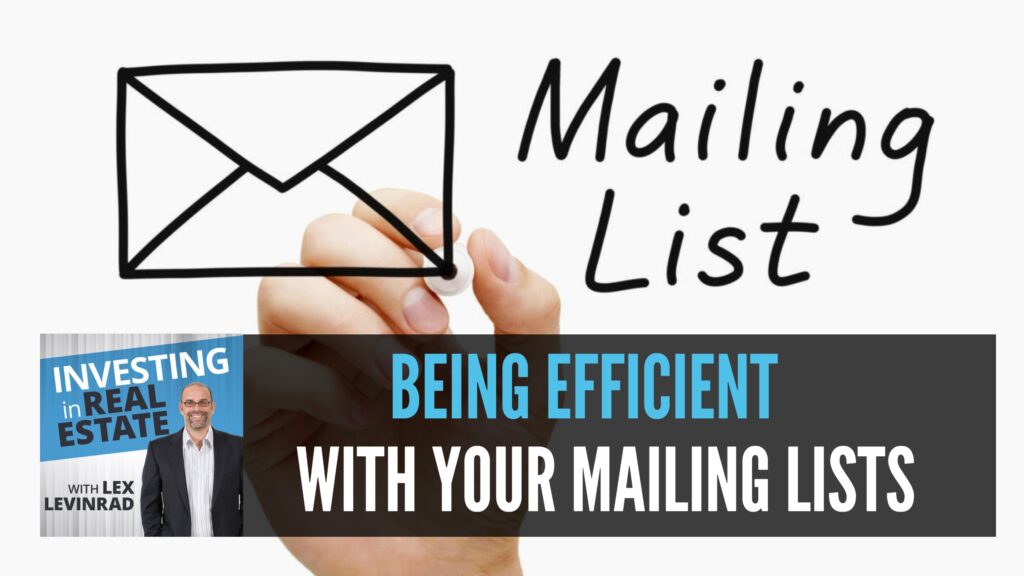 BEING EFFICIENT WITH YOUR MAILING LISTS
On this podcast episode I talk about being efficient with your mailing list. You can listen to the podcast by clicking on the white triangle in the black bar at the bottom of this page. On this podcast I talk about scheduling your mail in bulk, how to save money on direct mail and purchasing lists and how to use list stacking software to sort and prioritize lists.
This is episode 5, in a multi part series about getting back to the basics of Wholesaling Real Estate. The first episode was called "Wholesaling Real Estate 101".
Make sure you go back about 6 or 7 podcast episodes, and listen from the beginning to part 1 of this back to the basics series. Part 1 was called "Wholesaling Real Estate 101".
Part 2 of this series is "Motivated Sellers and How Sellers Become Motivated to Sell". Part 3 of this series is "Types of Motivated Seller Lists". Part 4 is the episode before this one, where I talk about "Purchasing Motivated Seller Lists" and where to purchase these lists.
On this podcast episode (part 5) I talk about being efficient with your mailing list by learning how to pay the least amount possible for your mailing list and your postcard mailings.
Make sure you get the lowest possible cost per lead, and the lowest possible cost for mailing. You can achieve this by bulk scheduling your mailings and by buying your lists in bulk. This is cheaper than buying small lists periodically since you pay based on the number of records or mail pieces.
We have two great resources for our students to get lists at a
discount. One is at www.lexlevinrad.com/listability which allows you to pull absentee records for as low as 2.5 cents a piece. Save your mailing lists that you purchased and skip trace those list for cell phone numbers. Then when you have those numbers you can call and text these individuals as well.
The other is a feature for our students where we can pull List Source lists for you at just 3 cents per record. This is a subscription based service that costs just $97 per month but we can pull records for you at 3 cents per record for as many records as you need. We only offer this to existing students of ours.
When you purchase your lists, make sure you save your lists for future use so that you can load these lists into a list stacking software program.
If you are using a list stacking software, you will know which of your sellers are showing up on multiple motivated seller lists. You should be marketing more frequently to these people and using higher quality
mail pieces.
You should also consider cold calling and text messaging these individuals as well. These are your most likely to sell candidates.
Another great feature about list stacking software is that you can run any list through the US Postal Service Vacancy list and then extract that list of vacant properties and then market to those vacant property lists. This fact alone makes the subscription price worth it because none of your competitors are marketing to vacant properties
(since they are hard to get).
We use this software for list stacking:
www.lexlevinrad.com/propertylistmanager