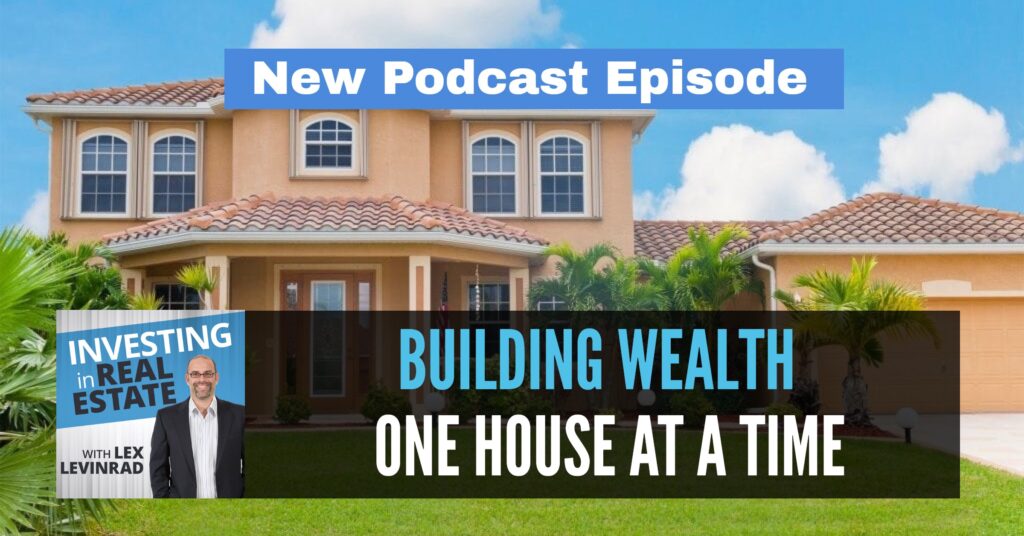 To listen to this podcast episode, please click on the black arrow at the bottom of this page and make sure that your speakers are turned on.
Creating Wealth In Real Estate With the BRRR Method
On this podcast episode, I talk about creating wealth in real estate, by building wealth one house at a time. The example that I use on this podcast came from our Fixing and Flipping Coaching event this past weekend. I was reviewing potential fix and flip deals with my coaching students, and we were evaluating deals together to find houses that would make good fix and flips. In this case study I will be showing you a house that initially we analyzed as a fix and flip, but how after reviewing the numbers decided it would make a better rental property.
Buy, Repair, Rent and Refinance Example
The specific house that I discussed with my coaching students is a $180,000 house in Sebastian, Florida that can be purchased for $115,000. The asking price on the house is $120,000. This is a house that has been emailed out on our daily "wholesale deals" email to our cash buyer list quite a few times. If you want to get these emails you can sign up here. Remember that these are wholesale deals at wholesale prices which means they can only be purchased with cash or a hard money loan (meaning you cannot buy these houses with a conventional mortgage).
The house that I am using in this example is a nice house in a decent neighborhood. This is what we would call a "pretty house" meaning it's a nice house in a nice area that would make a good fix and flip (or a good rental). This house was a foreclosure that became bank owned, and Fannie Mae purchased the property. Fannie Mae is now selling it as an REO. A wholesaler bid on the house and won the auction. Now they are going to either close on the house and fix and flip it themselves or they are going to wholesale the house at a profit to an investor like me (or one of my students). We are evaluating this house to see if it would be a good fit.

Repairs For This House
The house needs new flooring, a new kitchen, new bathrooms, and interior and exterior paint. I am guessing that to fix and flip the house the repairs would be around $25,000. in total. See the picture of the house below. It is what we call a pretty house meaning it's a decent house in a decent neighborhood and will look nice once it has been repaired: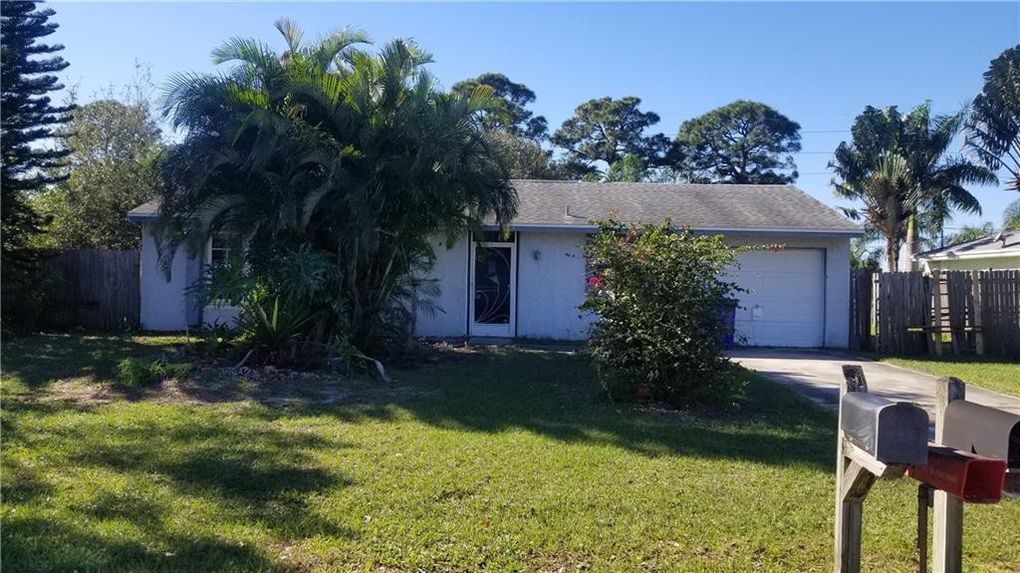 Fix and Flip Profit Potential Calculator
We use our fixing and flipping calculator (which we call the Rehab Property Calculator) to estimate the profit potential which you can use by clicking here
This Rehab Property Calculator is also available as a free download in the app store for both Android and iPhone (search "Rehab Property Calculator").
Using the calculator above, we see that for a fix and flip, the spread is a little tight and the house will only generate a profit of around $10,000. That seems like a lot of work for not that much profit.
Buy, Repair, Rent and Refinance
Using the same house, purchased as a buy, repair, rent and refinance makes a lot more sense than a fix and flip. If we are repairing the house to rent it, then the cost will be much less since we will not need to put in new granite counter tops and will use Formica instead, we will use cheaper Ready to Assemble Cabinets, and we will use used appliances instead of brand new stainless steel appliances.
We will do the bare minimum to make the house look presentable, clean and rent ready. Typically that means keeping the existing tile for the flooring and re glazing the tile in the bathrooms instead of putting new tile.
To make this house rent ready in this manner we will only spend around $15,000 max (instead of $25,000 for a fix and flip). We have many houses that we can make rent ready for a lot less than that too.
The numbers for a Buy, Repair, Rent and Refinance if I was personally lending you the money for the hard money loan (like I do with my fixing and flipping coaching students) would look like this:
Purchase Price and Cost
Purchase Price $115,000
Repairs (rental) $15,000
Closing costs, points and fees $5,000
Your Total cost is $135,000
Hard Money Loan Break Down
Your down payment that you put down is $15,000
I loan you a private lender loan of $100,000
Total Cash Out of Pocket
Your total cash out of pocket is $35,000 which is made up of your down payment ($15,000), the repairs cost ($15,000), and your closing costs ($5,000). Please note these numbers are estimates for this example.
After The House Is Appraised
When you apply for a refinance, the mortgage company will order an appraisal on the house. They will lend money based on this appraisal value.
Based on the comparable sales for this house we feel comfortable that the house will appraise for $180,000.
With investment properties that are rentals, the bank will typically be willing to lend (with a conventional loan) up to 75% of the amount of the appraisal. In this case, if the house appraised for $180,000
then you would be able to get a conventional loan for $135,000.
15 Year Fixed Rate Mortgage
With interest rates at record lows, as of today you would be able to get a 15 year fixed mortgage for 2.75%. In fact, I just closed a loan last week that was a 15 year fixed with a rate of 2.75%. Using a Mortgage Calculator, the payment for a $135,000 loan at 2.75% for 15 years is an interest and principal payment of $916. I estimate the taxes and insurance on this house to be around $300 per month which means that your total payment including principal, interest, property taxes and insurance would be $1,216.
If you had the house rented out at $1,500 per month, then you would have around $284 per month in positive cash flow. This is $3,408 per year in positive cash flow. I suggest you save that in a separate account so that you have money set aside for maintenance and repairs that will come up from time to time.
Owning the Property Free and Clear
If you keep the property for 15 years as a rental property, then 15 years from now you would own the house free and clear (with no mortgage). If the house appreciated at just 4.8% per year then the house value would double in 15 years and would be worth $360,000. Keep in mind that in Florida the appreciation rate has been closer to 8% so I am being very conservative with this number. We had a student at our Inner Circle this past weekend that purchased a house 11 years ago for $97,000 and it just got appraised at $335,00 which is more than triple in price in 11 years. In my example I am using double the price in 15 years. So it's a conservative number but it works well because at exactly 4.8% appreciation, the house value will double in 15 years.
If rents appreciated at the same 4.8% then the rent that you would be getting from the tenant in 15 years would also double and would be $3,000 per month. That translates into $36,000 per year!
Getting Paid For The Rest Of Your Life
You would be getting paid that $36,000 per year for the rest of your life. And every year you could raise rents. And every year the property would appreciate in value. And you would be getting that income for the rest of your life! If you have children, then when you move on, they would be getting that income for the rest of their lives too!
This is how you build wealth.
You do it one house at a time. As soon as you have refinanced that first house, you move on to purchasing house number two. Remember that you will be using the same cash from the first house. The same $35,000 will be used to buy house number 2, house number 3 etc.
Your goal should be to buy, repair, rent and refinance at least 10 houses. If you do this, in 15 years you will be a multi millionaire. Using the house in this example, 10 of these houses at $360,000 value per house would be $3.6 million in free and clear real estate that you own. Your rental income with 10 houses would be $30,000 per month. You would never need to work another day in your life. This is how you build wealth. You do it one house at a time.
Refinancing The Mortgage
If the bank is willing to lend you 75% of the appraisal value of $180,000 then that is $135,000. Since you only owe $100,000 you would be doing what is called a "cash out refi" meaning you would be getting the $35,000 back. Here is how it works. If you use $100,000 of that $135,000 that the bank gives you to pay off the hard money loan of $100,000 then you still have $35,000 left over. That $35,000 cash is given to you at closing. You take that $35,000 and you put it back into your checking account. You now have the same $35,000 cash that you started with when you first purchased the property. Your money out of pocket is effectively zero since you have your $35,000 in cash in back.
You can then use that same $35,000 to purchase your second property. Each property that you buy you repair, rent and refinance . Eventually you get smart and you realize that you can buy houses that are existing rental properties with tenants in place and that you don't have to buy houses that need repairs in order to utilize this strategy. You can skip the repair and rent part and just buy and refinance. The key is that your cost needs to be "all in" no more than 75% of what the property would appraise for. And it needs to come with a tenant in place. Can you find this? Yes, but it won't be as easy as finding a house that needs repairs.
That is how the Buy, Repair, Rent, Refinance method works. And it's the easiest way to create wealth. You focus on building wealth one house at a time. This is what I did from the first day that I purchased my first rental property and it's what I teach my students to do too.
Your Equity In The Property
If you have a house that appraises for $180,000 and you have a loan amount of $135,000 then you have equity in the property of $45,000. That means you have increased your net worth by $45,000. And you still have the $35,000 cash that you started with. You have effectively turned $35,000 into $80,000 and you have done so in less than 6 months. That is why I don't invest in the stock market. It is simply too easy to generate predictable and consistent returns with real estate investing in single family rental properties.
If you read my Home Study Course "Millions in Real Estate With No Cash and no Credit" ™ it is based on my experience purchasing my first ten rental properties. I purchased all of these properties with borrowed money and I borrowed both the purchase price of the property and the closing costs and the repairs.

I purchased my first ten rental properties with no money down using this exact same buy, repair, rent and refinance strategy. I have never needed to use any of my own money to purchase a property (or pay for repairs or closing costs) since then. If I put some money down on a deal now, it's to lock in a lower interest rate with an institutional lender. For example Institutional lenders loan 90% of contract price at 8.25% and will give you 100% of the refinance money. If that rate is lower than the rate that a mom and pop investor will give me then I will go with that rate. I also do it to build a relationship with the lender.
But I still finance the majority of my fix and flip and rental purchases with mom and pop investors that lend me the money at 8.5% to 9% interest. If you are interested in being one of these lenders make sure you let me know. I can pay you every month and I have been doing this for 17 years since 2003. I have investors that have been with me since then and are still with me to this day!
The buy, repair, rent and refinance strategy works. And it is one of the simplest methods to deploy. All you need in order to do this is to have:
a job
decent credit
around $35,000
That means that if you are reading this you may have everything that you need right now to be using this strategy.
I have trained over 5,000 students over the past 12 years and this strategy is one of the core components of understanding wholesale real estate. Many of of my students are now millionaires from using this simple strategy. For example, this is my student Andy in the picture below he is working on rental property number 9. He is only 31 years old and he has almost 1 million dollars in equity. And he started just 5 years ago and has purchased, repaired, rented and refinanced almost 2 houses a year since he started. The picture below is Andy at house number 9 which is in the process of being rehabbed and is going to be an Air BNB Rental.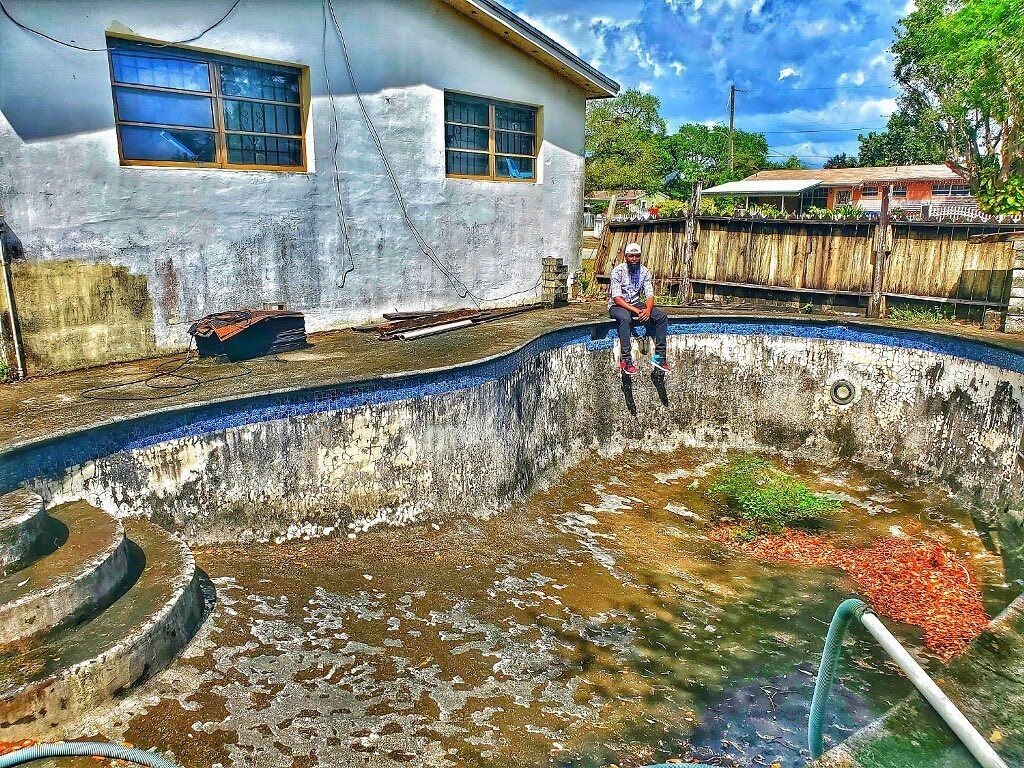 One of the benefits of our coaching program is that we can help you find and purchase your first rental property using the Buy, Repair, Rent and Refinance Strategy. Andy (above) is one of our coaching students. His investment in our coaching program resulted in him owning 9 rental properties and having almost $1 million in equity in just 5 years.
Our coaching program can help you with:
Finding the right property to buy (we will find it for you)
Loaning you the money to buy the property (I will do the loan)
Providing you with the crew to fix the property (I will supervise)
If you are looking to get started with your first Buy, Repair, Rent and Refinance and you would like for me to help you with it then I highly recommend our Fixing and Flipping Coaching Program.
If you would like to apply for our coaching program, please use the "apply for coaching" orange button at the top right of this page. If you are a good fit for our coaching program, one of our coaches will schedule a call with you to discuss our coaching program in more detail.
Materials List For Rehabbing Properties
For the types of materials that I personally use when fixing and flipping properties, you can use the link below to get the materials and components that we use for some of our fix and flips. We have two color themes that we use. One is what we call the "grey" color theme which is basically grey, white and stainless steel. The other theme that I use more often is the "brown" theme which is basically dark wood, brown, and tan colors. This is my post popular them on my fix and flips and has a much warmer feel to the house. This has brown and neutral colors that we use on many of our fix and flips. These are the actual materials and product numbers that we use and give to our contractors to make sure they are using the correct materials. You can click here to download the materials list that we use for the brown them which shows you the Home Depot product description and picture from the Home Depot website along with the SKU number for each product.
Print and Use This Materials List
You can print out this materials list or you can email the PDF to your contractor. Make sure you let them know the exact type of materials and colors that you want to use on your next rehab. If you don't provide them with direction, then they may choose components that don't look good or colors that don't match. When they quote you a price, the cheaper the components that they use, the more money they make. So you have to make sure you let them know exactly which materials, colors and finishes you are looking for. If you don't you will not get the end result that you want. Ask me how I know that 🙂 I share my experience with you to help you not make the mistakes that many beginners make. Use this materials list to help you with that component and make sure you understand how to estimate labor and material costs by attending our Fixing and Flipping Houses Boot Camp
To see the dates for our upcoming real estate coaching events and boot camps please click on the "events" tab at the top right of this page (to the left of the apply for coaching button). If you would like to apply for our coaching program please use the "apply for coaching" button at the top right of this page.
Listen to this Podcast Episode About Building Wealth:
To listen to this podcast episode click on the white triangle in the black bar below.
Disclaimer about this example: Please note that for purposes of illustration I have used exact round numbers to make this buy, repair, rent and refinance example easy to illustrate. In reality, the house may appraise for more (or less) than $180,000. The closing costs may be more (or less) than $5,000. Your repairs may be more (or less) than $5,000. For the refinance, you would typically pay around $5,000 in fees to the mortgage bank for the refinance (but you can wrap this into the loan). I have used round numbers in order for you to understand how you can buy houses with no money down. If in reality you came out of pocket $5,000 on a $180,000 house that is still as good as no money down in my book. If you borrowed the repair money and closing costs then you could actually get money back when you refinance and that would be no money down plus money back! That is what I personally do with most of my rehabs.