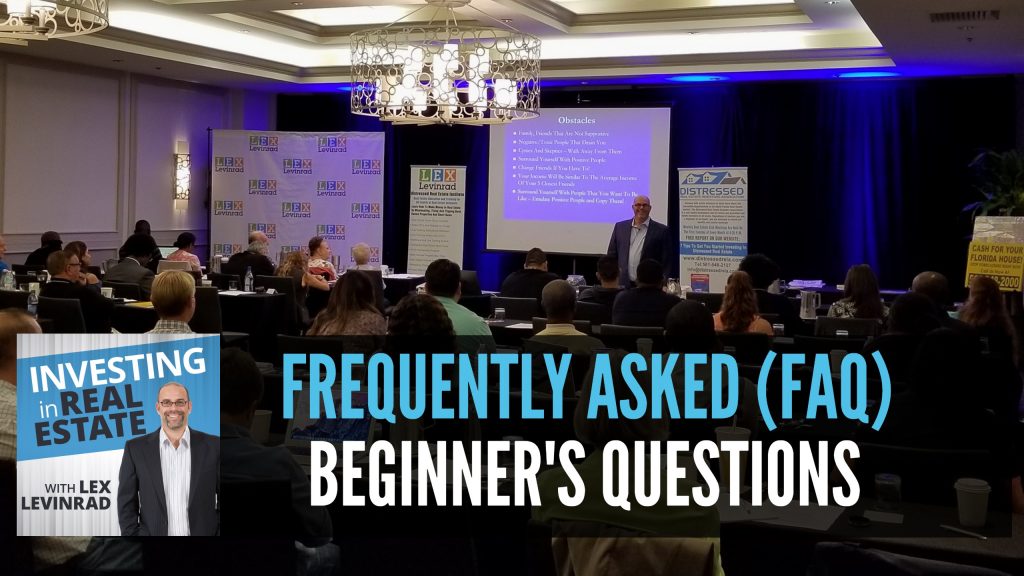 On this podcast episode I talk about beginner questions that I am frequently asked.
I hear these questions at every single boot camp from new investors. It was also a topic that came up a few days ago on my car drive to visit properties with my son. I realized that he was asking the same questions that many of my new students ask. So I decided to make a podcast episode addressing these beginner questions since I figured a lot of you out there might have the same questions.
The questions I often get asked by new real estate investors are:
1. Why Pay Cash If You Can Put Down 20%?
2. The Difference Between Wholesale and Retail Real Estate
3. Why You Can't Get A Mortgage on Wholesale Deals
4. How To Find Discounted Houses For Pennies on the Dollar
5. What Are Motivated Sellers, and Why Are Sellers Motivated To Sell?
6. How To Get The Cash To Fund Your Wholesale Deals and Flips
7. Private Lending, Private Lenders and Hard Money Loans
8. Finding Houses Yourself Versus Wholesalers Finding Houses For You
9. Understanding That Finding Houses and Flipping Them is A Business
Please click on the white arrow in the black bar at the bottom of this page to listen to the podcast.
You can also listen on Apple Podcasts, Google Podcasts, Stitcher or Spotify by clicking on one of the buttons at the bottom of this page
Insightful

April 4, 2023 by Adam with Home Equity Partner from Philippines

The real estate market can be influenced by many factors, some of which are unique to each location, making it a dynamic and exciting industry. - Adam with Home Equity Partner

Great Show!

February 23, 2023 by PaigeBPodcasting from United States

Great podcast to listen to if you are thinking about getting into real estate investing. I've learned a lot from this show— both from Lex and the guests he brings on. There's a nugget of wisdom in every episode!

Awesome Podcast!!!

April 11, 2022 by roweereyes from Philippines

Lex, host of the Investing In Real Estate Podcast, highlights all real estate, investing and more in this can't miss podcast! The host and expert guests offer insightful advice and information that is helpful to anyone that listens!

Incredible podcast!

February 8, 2022 by maddie@podcastingyou from United States

This podcast is a must listen for anyone looking to level up their real estate investing strategies! Lex is a great host and his conversations with guests reveal everything you need to know to succeed.

Fascinating!

December 1, 2021 by Bagwish from Philippines

This podcast will not bore you and indeed very insightful!