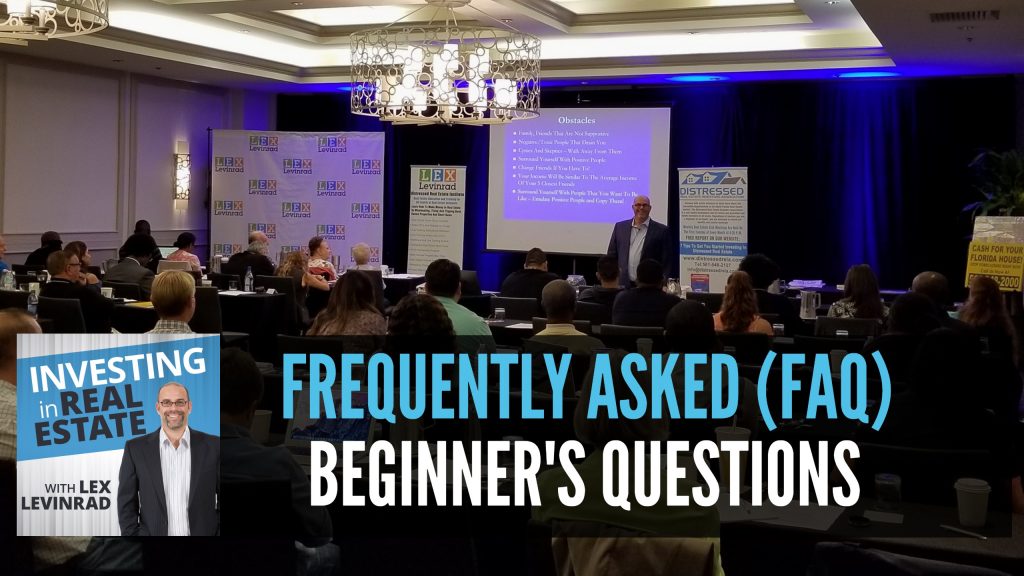 On this podcast episode I talk about beginner questions that I am frequently asked.
I hear these questions at every single boot camp from new investors. It was also a topic that came up a few days ago on my car drive to visit properties with my son. I realized that he was asking the same questions that many of my new students ask. So I decided to make a podcast episode addressing these beginner questions since I figured a lot of you out there might have the same questions.
The questions I often get asked by new real estate investors are:
1. Why Pay Cash If You Can Put Down 20%?
2. The Difference Between Wholesale and Retail Real Estate
3. Why You Can't Get A Mortgage on Wholesale Deals
4. How To Find Discounted Houses For Pennies on the Dollar
5. What Are Motivated Sellers, and Why Are Sellers Motivated To Sell?
6. How To Get The Cash To Fund Your Wholesale Deals and Flips
7. Private Lending, Private Lenders and Hard Money Loans
8. Finding Houses Yourself Versus Wholesalers Finding Houses For You
9. Understanding That Finding Houses and Flipping Them is A Business
Please click on the white arrow in the black bar at the bottom of this page to listen to the podcast.
You can also listen on Apple Podcasts, Google Podcasts, Stitcher or Spotify by clicking on one of the buttons at the bottom of this page
Excellent Content!!!!!

October 15, 2021 by Fashionistagirly1967 from United States

This is a wonderful podcast to listen to with such valuable content. I was very interested to listen to your take on why one should purchase rental property

Amazing!

October 5, 2021 by REIexpert101 from Canada

Very informative podcast! Covers a ton of great content, I'd highly recommend it!

Invest like the best!

September 1, 2021 by Arlie K from United States

Whether you're a seasoned real estate investor or just dipping your toes in, Lex is the guy you want in your corner - and your headphones! I cannot tell you how much I've learned from this show. Thanks a million, Lex!

AWESOME!

March 4, 2021 by Ima listener from United States

Lex is a fantastic host and wealth of knowledge! I highly recommend the listen!

Best real estate investor podcast.

February 21, 2021 by boydcl from United States

Lex gives you real tips with actual names of multiple sites and services to use from the beginner up to advanced. I feel he's giving away his classes for free on the podcast. Most podcasts stop short of details and give generic advice unless you join there groups.