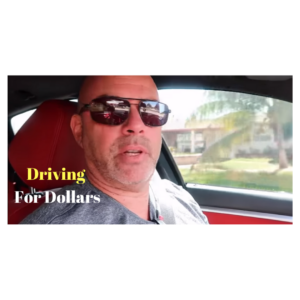 One of the best ways to locate real estate deals is by something called "driving for dollars". Many of your competitors may be mailing post cards and yellow letters, or paying for expensive pay per click campaigns on Google or buying Facebook Ads. Some of your competitors may even be using automated dialers to cold call expired listings, for sale by owners or targeted lists that they have acquired.
Those approaches all work great (and we use them all). But let me ask you a question. How many of your competitors are actually getting into their car and driving around looking for deals? The answer is not many!
How do I know this? Because I find deals all of the time that are right in my backyard! Almost every single time I get in my car, and go driving through my target markets, I find deals. Almost every single time!
Investors have become spoiled and lazy. It is easy to overlook this old approach of "driving for dollars". But it works. Driving through any neighborhood and noticing vacant, boarded up properties, houses with damage (like fire damage), and FSBO signs is not something you can do sitting in front of your computer.
And all of your competitors are….. (in front of their computer).
If you want to find the smoking hot deals. The ones that can make you profits of $30,000, $50,000 or more then you should start driving through your target market more and looking for these types of houses.
And when you find them, there are real estate apps out there that you can download on your smartphone that could really help you locate sellers.
I really like these two apps listed below (I use them both)
Both of these apps do almost the same thing but with some variation.
SEND FUSE > http://getsendfuse.com/
Send Fuse is $47 to join and only 75 cents a postcard to mail. You get a sequence of 6 postcards that you can have go out to owners of the property. All you need to do is text the address to your send fuse number in your phone and the postcard sequence begins. You can also add users to your Send Fuse account so you could recruit some bird dogs and offer to pay them $1,000 for any deal they bring to you, and have them download the app on their phone (with your account). I really like the ease of use and the fact that there are no fees at all. This app is very easy to use and I recommend it to my students.
DEAL MACHINE > https://dealmachineapp.com/
The really cool feature about Deal Machine is that you can take a picture of the property and add it to the postcard. You can literally take out your smart phone and take a picture of a vacant, boarded up house. And then using the app you can have a postcard sent to the owner (with a picture of their house) asking them "Is this your house?". That is a very smart way of getting the owner's attention and it works really well. The response rate is way higher than a typical post card. The other really nice feature of Deal Machine is that you can look up the owners info right there and even get their phone number in some cases. Deal Machine let's you try their service out for free for 14 days and then they charge $49 per month which is really a very small charge considering what the app does. Imagine if using this app you made $30,000 profit on one house! Use this code FTCYXN to get $5 of direct mail credit when you sign up and a free 14 day trial.
If you are already out driving for dollars, do yourself a favor and have some bandit signs made up and keep a few in your trunk. It wouldn't kill you to put a few bandit signs out and have some sellers call you. Even better, hire your kids or someone else and pay them $1 to $2 per bandit sign that they put out.
And don't forget to send out direct mail. It works! Start out by mailing a list of absentee owners since this is the easiest list to obtain. Even if you can only afford to mail out 500 postcards a month, make yourself a commitment that you will mail 500 a month for at least 6 months. If you only get 1 deal out of that mailing over the 6 month period then that would be a very good return on your investment.
And don't forget to track those phone numbers when your phone starts ringing.
I like Call Rail for tracking where the calls are coming from so I can see which marketing efforts are working best
You Can See More Info About Call Rail Here > Click Here To Check Them Out
Check out this video on my You Tube Channel about Driving For Dollars:
Subscribe to the Investing in Real Estate Podcast by clicking here